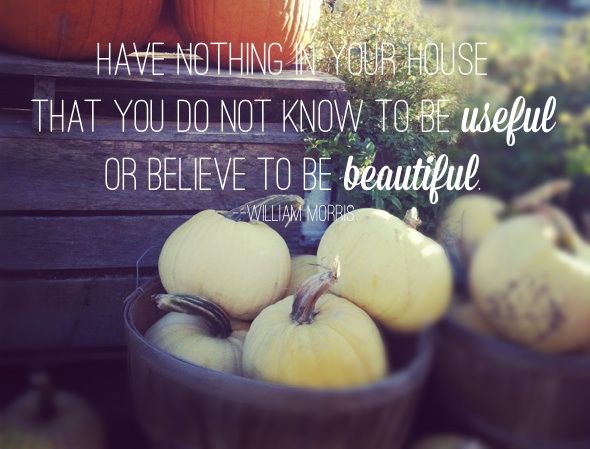 We are rushing into the holidays, which can mean shopping, shopping, shopping. I like to shop. I fall into the rut of constantly scanning for the new. With easy Internet access, frequent store emails, and online flash-sale sites, I am bombarded with what I could have. Since I rarely buy full price, the voice in my head says stalking sales is a good & necessary use of time.
Also, I edit my home. I whittle down our pile to things that inspire or help us through life. The creativity of putting together a home and an outfit – seeking beauty – is a thrill. We live in an 80-year-old home with limited closet space, because people had less to store in the 1930s. That way of living resonates with me. Coming home from the holidays with a full car can make me itchy, because I don't know where to stow it away. My donation box sits ready to accept more items.
Here is the point. These two extremes are idolized by our culture. They are equal and opposite time-sucks, and combined create a vicious cycle. I have yet to find the middle ground of "stuff." Now, with a little girl who is watching my every move, I don't want to pass down the desire to shop/edit compulsively. I want to demonstrate intentional, simple living with a grateful, content heart. I want to have a beautiful home, but I need a beautiful heart.
We needed a new plan. Until the New Year, we won't be shopping (other than food and holiday gifts). We will be content using what God has blessed us with. Delete all those emails; avoid the sites; trash the magazines. The time and money saved allows productivity and rest. After New Year's as a couple, we will assess if there are things we need to purchase. This provides an avenue for mindful consumption.
We will continue with these short seasons of shopping and long seasons of resting to allow for (hopefully) a more godly approach to stuff and a heart that rests in Him.