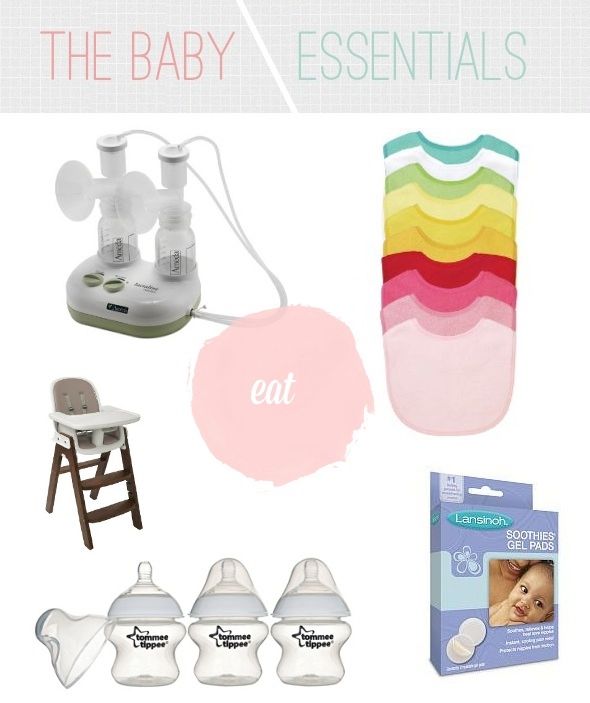 Bottles :: We only bought one bottle to start, as some babies can be very particular.  Evelyn was easy-going, so we continued with the Tommee Tippee brand.  The best prices were in Target stores or Babies R Us.  For some reason, they are more expensive online.
High Chair
:: We bought a high chair for Evelyn right around 5 months when she was starting to sit up.  I spent a lot of time researching, because the high chair from my childhood is still used at my parents' house.  I was willing to invest in something I loved.
Spoons ::  Around 4-6 months when you start feeding your baby cereal, these little spoons are handy.
Bowls ::  Instead of buying baby-specific bowls, we used mini bowls from Anthropologie that we already owned.
Bibs
::  I love the color and number of bibs that come in this pack.  We go through them quickly!  We were also gifted a plastic bib
 for toddlers to pick up dropped food and this soft burp cloth/bib combo
 I keep in my purse.
For a Nursing Mama ::
Breast Pump
 :: This brand is about half the price of most others and has worked perfectly.  If you purchase a pump, start using it around 2 weeks after giving birth and introduce bottles before one month.  I did add this set
 of extra bottles with an insulated travel carrier
Breastmilk Storage Bags
 :: This brand – no problems, lower price.
Gel Pads
:: These saved my life in the first two weeks of breastfeeding.  My nurses stocked me up before I left the hospital, but they also sell them at Target.  I gifted them to my friends who just had babes, and they are like little miracles.  Keep them in the fridge before each use.  They are made of the same gel applied to burn victims. I preferred them over lanolin cream.
Nursing Bras :: While a very personal preference, I did find that Nordstrom took really good care of me while getting fitted for a new bra.  Their selection in-store was depressing (only one style that made me feel about 50 years older than I am).   However, online I could order cute styles …. here, if you are interested.
Here are the other posts with our absolute, tried-and-true favorites and the real registry items we use every day:

++ Getting Started
++ Sleep
++ Clean
++ Travel