A few weeks ago, Nadine had a fabulous idea to create a linkup to help get to know the ALL the women of the Influence Network.  We want to meet and build community with our influential women.  Some of you may be coming to the Influence Conference this September, so we have six months to interact before meeting in person!  I love that.
To participate, you must be (or become!) a member of the Influence Network.

Once you link your post, visit the blog of the person before you, and leave some kindness in the comments.  

In your post, include the following things: 

   A photo of yourself that you love.  We want to put a face with a name!

   Three get-to-know-me things.  Deep, quirky, fun – you pick.

   One valuable thing you've gained from the Network.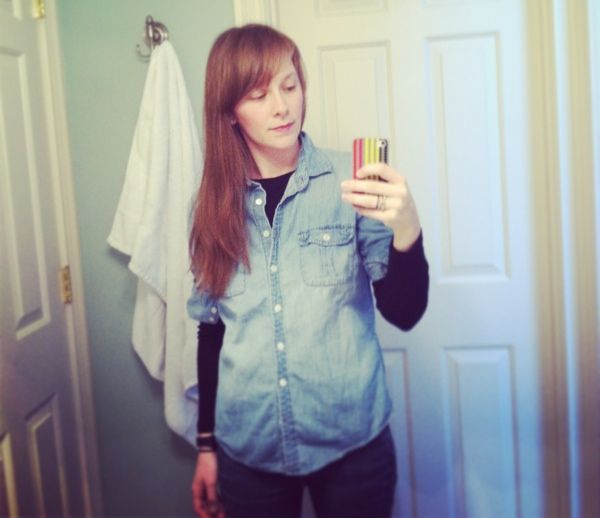 One photo I love:
I had the hardest time finding a current photo of myself alone.  Somehow my little girl sneaks into every shot.  Not to mention in the past year and a half, all my photos are either of pregnant-me, postpartum-me, or me-sans-bangs.  So, I like that this one shows me. right. now.
Three things you should know about me:


1.   I love my library card.  It may be my favorite thing in my wallet.  My favorite books include Pride & Prejudice, Mere Christianity, and the Harry Potter series.  I read them again and again and again, without tiring.
2.   I married my
high school sweetheart
.  He knows me better than anyone, because we've been together for thirteen years.  We literally grew up side by side.  
3.   I could have had a job as a pro-organizer and purger.  I gain so much energy when I get to simplify a part of our home.  (In real life – I used my biology degree to teach high school for five years and now stay home with our daughter.)
One thing the Network has given me:
Community.  Instead of sending my posts out into the internet void, where I picture some random weirdos reading about my heart, now I see your sweet, lovely faces.  
I have readers on The Kubly Girl that are like-minded and encouraging, and I think they only found me because of Influence.  I have heard the voices and seen the faces of my favorite online women.  In two months of being a member, my entire online experience has blossomed.  And this community brings me so much joy and purpose and continues to point me towards the gospel.
p.s. I have a giveaway going on right now!  If you've been meaning to print your instagram photos, click here to enter.