I grew up surrounded by boys.  2 Brothers.  2 Brothers-in-law.  1 Handsome Husband.  
My brothers never convinced me to love sports.  I didn't mind if games were on, but I never understood how they could watch and care about sports that much.  I liked high school games with the live action and players I knew – but college and pro teams were pretty meh.  
Slowly – during my newlywed years, I learned to cheer on the Colts, with my husband patiently teaching me all about the game (read about that in Tiny Twig's excellent post).  It became fun to have a hometown team and even see some of the players around town. BUT my sports perspective really changed last year.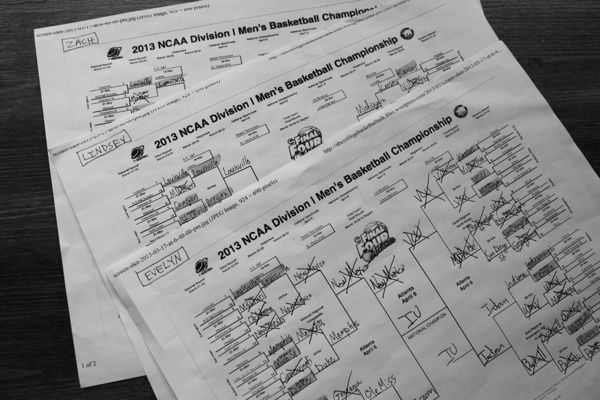 I spent the entire winter pregnant and on the couch after work.  So I couldn't say 'no' when my husband started watching his alma mater, the Indiana Hoosiers.  He has spent years cheering them on, and saying 'maybe next year…'   Basketball teams are so small that I quickly learned the players … on all the Big Ten teams. 
Then I went to my first college game – IU versus Michigan at Assembly Hall.  I was shocked by the electric energy and intense rivalry.  Girls.  This competition can be fun and heartbreaking and thrilling.  Thanks to the show, The Journey, on BTN (that stands for Big Ten Network) I learned the stories of different key players and coaches on teams.  I love a good story. 
The night we had Evelyn, we were in the hospital watching IU play during March Madness.  We had to turn the game off at half-time, but thankfully they had a pretty solid lead. We spent two more nights during Evie's first week, cheering on our team.  
And this is the fun part – my husband ADORES that I watch with him.  We are teammates during each IU game.  We text about the game during the day. He'll send me articles like this one, because he knows it makes the story richer.  He would rather watch games with me. We both remember watching the New Year's game against Ohio State.  It's one of our epic stories.
bow c/o The Hairbow Company
So tonight – after my class – I'll be watching the game with my husband.  We've filled out our brackets, and even Evie filled hers out by using a puzzle board.  If she picked the first piece out of the puzzle – she picked the top team, if she picked the second puzzle piece – the second team.  63 times.