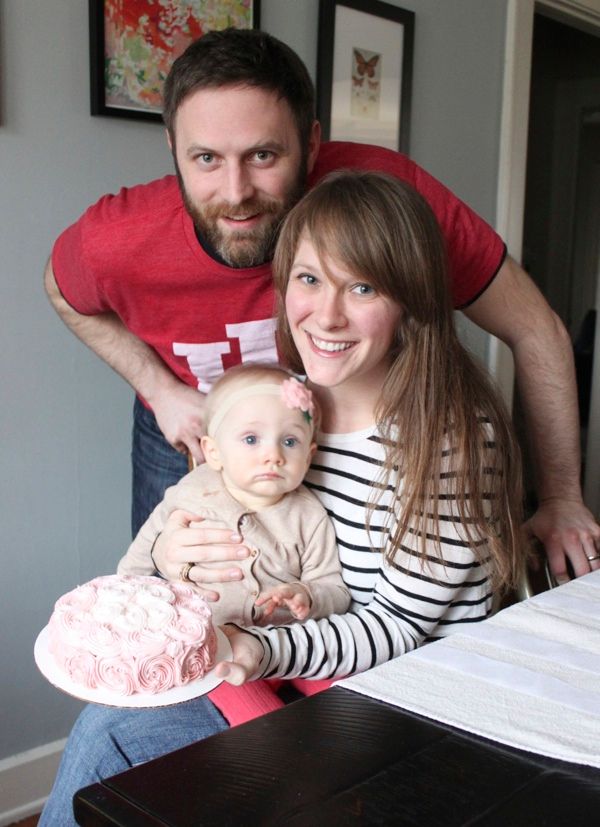 A few weeks ago I showed a peek at a surprise gift during Evelyn's birthday party, but I'm sharing a few more pictures today.  We hosted the little party at our house, invited family, and cooked a shockingly big meal.  (When you are used to cooking for 2, magnifying recipes for 26 is truly a feast.)  Everyone watched Evie daintily pick apart her slice of delicious cake and open gifts.
It was challenging picking a gift for a one year old, who still prefers to put things in her mouth, but has moved past rattles and baby toys.  We love the idea of a play kitchen, but she is still too young for all those food toys.  Thankfully, the previous weekend Zach and I stumbled on a gift while scouring Amazon.  If you're hunting for a gift for a one-year old's birthday, here's what we landed on:
While looking at a cute, slightly impractical first piano
– I found a band in a box
 by the same company filled with seven musical instruments that fit the bill. (Literally – it was well within our budget).  The tray loaded with instruments has become a fast favorite in our house, and it tucks away under our ottoman at night.  The sound of jingling bells or a shaken tambourine has been surprisingly sweet to this noise-sensitive mama.
Evie opened so many other sweet gifts too, including this
, this,
and this.
What do you like to gift a one-year old?