It might be slightly embarrassing how much time I spent planning the food portion of our trip to New York.  However, it TOTALLY paid off.  We went to some quirky, local places and for the most part didn't pay an arm & a leg for our meals.
When deciding where to stay, we decided to go cheap(er) with a great location – The Larchmont Hotel in Greenwich Village.  We were in our room only to sleep and change.  Although the rooms felt more like a Best Western with a shared hall bathroom, we don't feel gipped.  They were clean; there was always a bathroom available; and we didn't see another guest the entire 4 days.  The point was to be out in the city exploring.
Thanks to our hotel choice, we had the freedom to budget more for eating out, seeing a show, and a little shopping.  (Although I definitely should have planned the shopping more thoroughly to find some cute, little shops that kept eluding us.)  I highly recommend any of these food spots.
RIGHT BY OUR HOTEL
(Greenwich Village, West Village)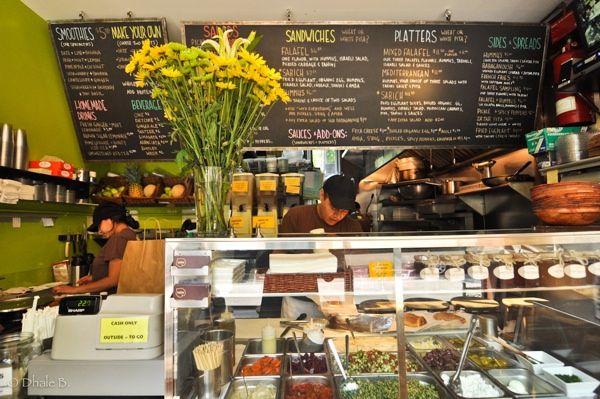 TAIM
A tiny storefront on a quiet street that serves up the BEST* falafel.
My husband is still raving about it.
They had 4 different falafel options –
I tried traditional green, while Zach had spicy red pepper.
(HINT from Zach: order with "everything," including a sliced hard-boiled egg).
*really, it was voted the best multiple years.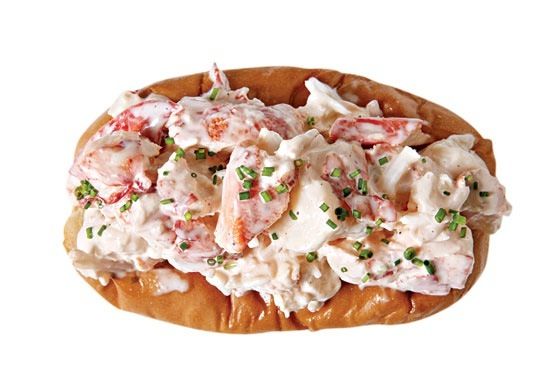 MARY'S FISH CAMP
Mary's made the perfect first night splurge meal.
Since East Coast food is hard to come by in the Midwest,
this seaside-esque fish joint was a mini-getaway in the middle of our vacation.
Definitely order a lobster roll.  A-mazing.
JOE COFFEE
Surprisingly, the one thing I didn't sort out ahead of time was a morning coffee stop.
Props go to my husband for finding a local spot where we could grab perfect cappuccinos.
(The pastries were mediocre though – grab food somewhere else.)
We ended up here 3 times in 4 days.
With any trip, it is nice to have a home base to return to.
MURRAY'S CHEESE STORE
A huge counter of meats and cheeses and friendly service
gave us the makings for a great picnic later in the day at Battery Park.
They were grilling panini sandwiches for about $6, if you're looking for a hot, fast lunch.
MURRAY'S BAGELS
We grabbed bagels and coffee on our way out of the city.
The amount of cream cheese is a bit obnoxious,
so I would recommend Murray's breakfast sandwiches on a bagel instead.
AROUND THE CITY
MOMOFUKU NOODLE BAR
After a long day of walking + sightseeing, a huge, steaming bowl of ramen
served in a cozy restaurant with family-style seating was a needed respite.
The pork buns are deservedly famous.  Order two.
DOUGHNUT PLANT
We picked up the creme brûlée and pistachio, which were tasty.
However, the 40 minute trek to get to the Lower East Side by train made us
less enthused than we would have been.  Try their location by the Highline instead.
***
A little tip:
Make a Google Map for a trip if you'll be doing a lot of moving around.
It helped us to see which restaurants would work for each day's plans.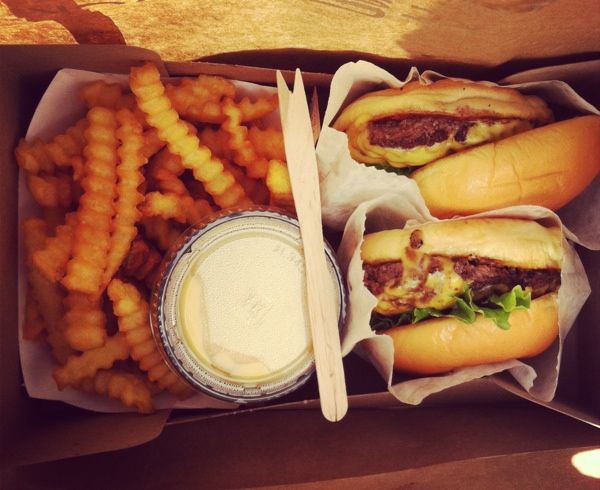 SHAKE SHACK
My favorite.  We first stopped at the location behind the Natural History Museum,
but the original stand in Madison Square Park can't be beat.
We ate outdoors at 10 pm in the park under the lights,
and one shack burger just wasn't enough –
I totally went back for a second.  Yup.
EATALY
No picture could do this place justice.
It is a massive, beautiful Italian grocery store with 5 restaurants mixed between the aisles.
We tried the pasta restaurant – order cacio e pepe  – and had a fantastic date.
(Be prepared to wait for a table – but you can wander the store and get a drink while you do.)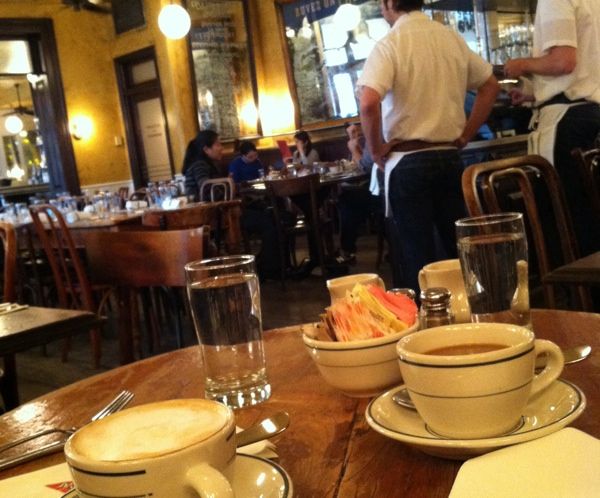 PASTIS
Our last morning was rainy,
so I quickly looked up a spot where we could spend a longer breakfast.
We cozied in a corner booth and enjoyed hanging out + doing nothing.
***
(All images are my own or from each restaurant's website.)