Although I am always tempted to shop for maternity clothes, I don't like spending money on them.  I would rather shop after the baby has arrived, and I've gotten back in shape.  I also know that in months 8 + 9, these clothes are likely the only ones that will fit.  So, I'm very selective about what I buy and tend toward simple pieces, rather than something I'll get sick of wearing.
These four basics are truly the few maternity pieces I have purchased or am using from my last pregnancy (which was in the dead of winter).  At $10-30 per piece, I am very happy with the cost-per-wear and durability of each item.   With this part of my closet complete, I can avoid adding any more maternity clothes, and instead focus on non-maternity clothes that will still work with my growing bump.
above:  maternity tank  ||  black tank dress  ||  distressed denim shorts  ||  black denim jeggings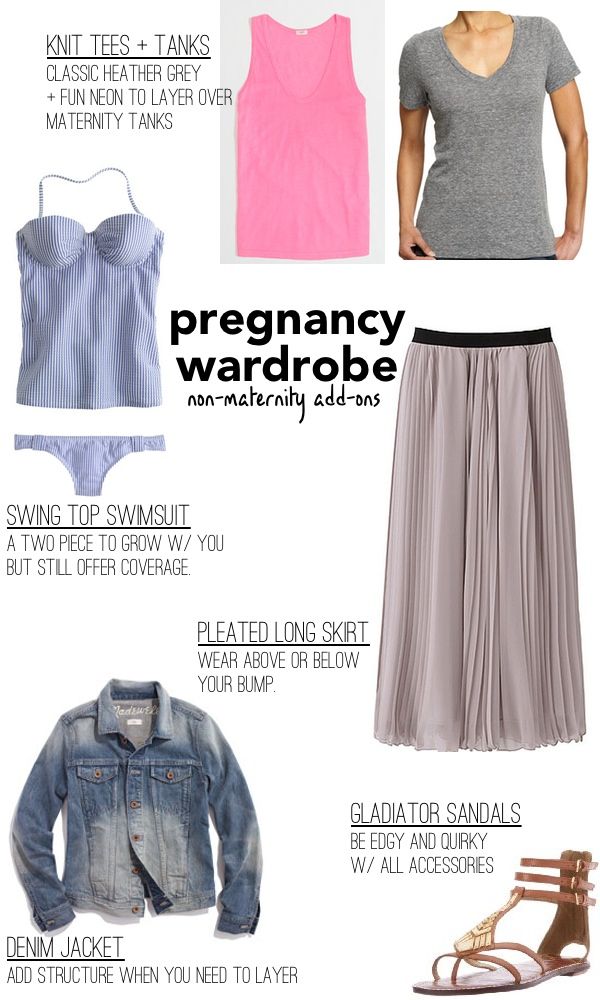 grey v-neck tees  ||  layering tank
chiffon pleated skirt  ||  swing top swimsuit
denim jacket  ||  gladiator sandals
This part of my wardrobe makes me feel much happier about getting dressed than if I was wearing only maternity clothes.  I like having add-ons that show my style better than maternity clothes do.  Each item will work in my closet long after I have this baby.  So, that is money well spent in my book.
A few notes:
++  Instead of buying new knits, I would rather use the ones already in my closet for pregnancy and nursing, since they stretch so easily.  Then I can buy replacements after we've moved past the baby spit-up phase.
++  Since we're going on a beach trip this summer and (let's be honest) the pool sounds like the best place for a pregnant lady during the sweltering heat – I added a swing top tankini to a bikini that I already owned.  I tried several maternity suits and hated them, so this was a better option for me.
++  I picked up that pleated skirt on our NYC trip with some of my birthday money.  I adore wearing it, and think every girl – pregnant or not – should own it (and for $30, why not?).
++  Mostly, I shop my own closet.  I didn't wear any maternity clothes until about 24 weeks, and even then it was just bottoms.  It is always surprising how many "normal" clothes work during pregnancy too.  So, I say use those and save your pennies for celebrating when you lose the baby weight!