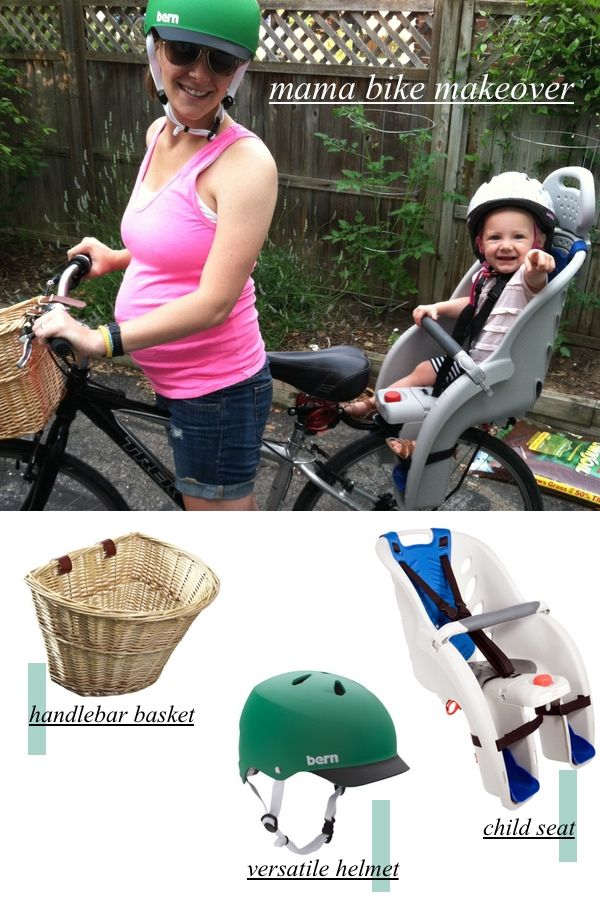 handlebar basket
  ||  BERN versatile helmet
  ||  Schwinn child seat
My husband was recently joking that my bike has gotten a mama overhaul this year.
Our bikes were a pretty big purchase when we were newlyweds, and I chose a tomboy Trek hybrid.  Indy has an abundance of trails, and last summer was the first year I didn't take advantage of them.  This spring, I was determined to ride more and take Evelyn with me.  With a few additions, the same bike can tote around an extra little person, who loves to kick me in the back and pull up my t-shirt to tickle my back while we're riding. (This wouldn't bug me if I wasn't currently wearing pants with huge elastic bands.)
Anyways.  Since wearing my purse isn't an option anymore, we added a basket on the front.  Helmets and safety have become more important, so Evelyn got one for her birthday, and we purchased one for me too.  The great thing about mine is it converts to a ski helmet and doesn't look like a spaceship landed on your head.  Win-win.
It took Evelyn two trips to get used to her helmet without crying.  Interestingly, she is the same way about a new pair of shoes.  It took me about the same amount of time to get used to having her on the back of my bike.  Turning requires a little more balance, but it is so easy to load her up and enjoy a summer bike ride.  It is not quite as easy to get on and off my bike with this soccer ball belly of mine, but I'm trying to be as graceful as possible. 
Evelyn's helmet was a gift, but if you're looking for one: this helmet is fun and gender neutral.  

 This is the only embellishment on my husband's bike, so he can stow his phone and wallet while riding.