The last weekend of September brought the long-awaited, much worked-for Influence Conference in Indianapolis.  After reading through lots of the recaps from other attendees, I think it is safe to say that God is doing a big work in women's hearts and it goes far beyond online avatars and social media strategy and blogging.
As a core team, we started the conference believing that we needed to focus on the WHY, not the WHAT or HOW or WHO of our mission.  And the WHY is grounded in our identity as children of God who were created in His image.  That is why we are creative and relational and meant to worship Him.  It defines what we do and how we do it.  For me, the weekend was caught up in the blur of newborn life.  It was full and rich and surprising.
SURPRISE #1 – I didn't take any notes.  None.  And the sessions were worth taking notes!  Instead I just sat and soaked in the wisdom and nursed my baby.  So I'll be waiting for the video recordings to come out for all the attendees.
SURPRISE #2 – I didn't hand out a single business card.  I ordered cards for the first time ever (and they're cute!) and brought them all home.  I put zero pressure on myself to network and instead met with the women I've been getting to know all year.  "Deep instead of wide" was my motto this year.
Our Team
.. Moriah .. Ashley.. Jessi .. me .. Hayley .. Rachael ..
SURPRISE #3 – Meeting with the core team in person wasn't as life-changing as I thought it would be. I expected it to be shockingly awesome, but instead it was calm and mellow and lovely.  You see, all our hours together online had already knit us together as a team and as sweet sister-friends.  Being in the same room just confirmed what we already knew – we love and support each other.
.. sitting with author Shauna Niequist .. The Sashes Market .. my men ..
.. our team getting ready for worship .. 
SURPRISE #4 –
The work was good.  I didn't come home with an anthem or a bunch of quotes to keep  me sustained.  I was plunged into a hard week of motherhood, and I think God gave me some closure on the conference with the sentence, "The work was good."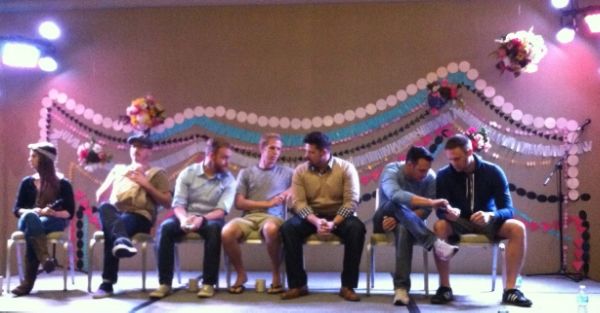 SURPRISE #5 – My husband made me cry.  One of the panels during the weekend was affectionately termed a "Manel."  All the husbands of the core team and one single guy were asked to answer some questions, both light-hearted and serious.  I fully expected Zach to get a goofy question, but instead he answered a thoughtful question so genuinely and lovingly, that I was reduced to a weepy mess.  I'm so grateful for these men and the way they love and support their wives and our team.  We couldn't have done it without them.
Read more recaps HERE.  Meanwhile, I'm diving back into my maternity leave.