Cute postpartum outfits require a bit of work.  Just days after having a baby, I was feeling pretty nervous about attending The Influence Conference.  Normally I am confident and genuinely like getting myself dressed.  But none of my usual clothes fit, and there was no way I wanted to attend in maternity clothes.  I needed to call in some help to cull three outfits for what was pretty much the social event of my year.
One of my smartest moves to date was scheduling a styling session with the girls at my local Madewell store a few days before the conference.  I invited my style co-conspirator, Hayley, along to come hang out and shop with me.  We have a similar aesthetic, so she gave me the thumbs-up or thumbs-down (and cuddled my sidekick, Tommy).
Basically, when we arrived my stylist handed us coffees and chatted with me about my needs.  Here's what I told them:
     1. Put-together, "cool" looks, still me.  
     2. Easy for nursing. 
     3. Any purchase must still look good after I lose the baby weight. 
I handed over a bag of items from my own closet to mix in – a school boy blazer, a denim shirt, jeans, and shoes.  And the Madewell girls took off through the store to make up some outfits.  Hayley and I chatted, and quickly my dressing room was loaded with outfit combinations.
Each hanger held an entire outfit (with my clothes in the mix).  I loved that, because they kept my budget in mind.  I tried everything on, stepping out of the dressing room to get extra styling tips.Want in on the fun?

This dress is crazy versatile and pretty.  The buttons in the front make it super simple for nursing.  I can picture wearing it later with a chunky cardigan and riding boots or with a pretty heels for a party.

tee // blazer // jeans // necklace

Hayley and I agree that this is THE perfect tee.  It is comfortable, yet flattering.  Madewell has all these shirts that are longer in the back (to cover your booty), and they look fantastic on.


I like the easy layering and tomboy style of this outfit.  Roll the sleeves just like the girl in the picture!  I used to buy fussy clothes for dates, but I find that my husband likes a sporty, edgy look more.  BUT I still add a lace bra underneath (this one is my favorite nursing bra).
So, what did I get?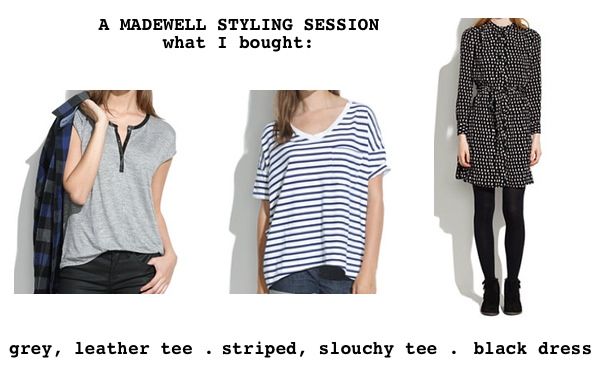 I needed 3 outfits and only had to add 3 items to my closet.  Each new piece has staying power in my wardrobe.  If you're stuck for an event or need a wardrobe refresh, schedule a styling session.  These girls know their stuff and make getting dressed simple and quick.
Want to see each outfit in action?
I'll be posting them on Instagram over the next few days, and you'll see all 3 pieces styled up!
PLUS, check out Hayley's No Brainer Wardrobe blog series for more smart styling tips.