All right, friends.  It's getting to be that time of the year when you stow away the wool and leather boots and pull out shorts and spring shoes.  This free wardrobe refresh is one of the perks of living in a state with seasons.  I look forward to the spring hyacinths popping up, like I look forward to pulling out the closet gems I tucked away last fall.  In case you're in the market for some new spring shoes, I wanted to share the ones that are coming out of my under-bed-bin this week.  I included some variety for each option, with an asterisk next to the ones I own.  Happy, happy Spring!
Sneakers
Superga.  More unique than Converse.
Tretorn. (*)  True tennis shoes, worn at Wimbledon even, the low-top feels more delicate.  They look like new when you wash them.
Veja. Easy to dress up with a cotton dress or down with jeans from a green, sustainable brand.
Bensimon.  I've wanted a pair of these for years, but for one reason or another never bought them.  A slip on shoe is genius when you have kids or your hands are always full.  These are a french girl fave, and I think the navy would look so good against tanned legs.
Rain Boots
Sorels. (*)  I can't believe I waited so long to purchase rain and snow gear.  My anorak, puffer coat, and these rain boots (aka, snow boots when paired with wool socks in the winter) are indispensable now.  They make me a much happier person on bad weather days.  Do look out for the sizing advice!
Sam Edelman.  The Chelsea design in a matte black doesn't scream rain boot and could easily go with any everyday outfit.
Leather Flats
Pons Avarcas.  (*) I fell in love with these shoes last year and slipped them on and off countless times every day of the spring, summer and fall.  They are my perfect yoga, gardening, playing with the kids, pool shoe.  They feel really tight at first, but loosen up a lot in the first week.  I bought the taupe, but so many colors to choose from!
Everlane Modern Loafer. (*) I've written about this shoe a lot, but I still love it just as much.  I've been missing it during the cold winter days when socks were a must.  Black is a classic choice, but all the colors are so good.  Like all good leather shoes, this loosens and molds to your foot.  I can't believe how much these shoes ground every outfit and work with everything.
Oxfords. (*)  I love wearing oxfords with skinny jeans and dresses.  My pair is a few years old from Madewell, but I love this dancer shape of this pull-on pair from Frye.  It has loads of good reviews too.  Everlane also sells oxfords and they look really good and timeless, although I haven't tried them out myself.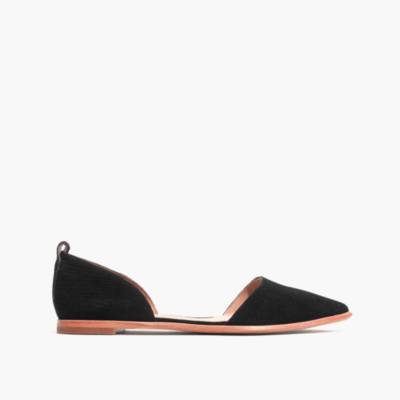 Madewell.  A d'Orsay flat looks really chic and leg-lengthening.  I haven't worn these so I can't speak to comfort, but I love the design.  They can be worn with or without ankle ties.
…
PS: A lot of you mentioned liking my sandals in this outfit, and Madewell just released this season's version – in leather or suede.  I love mine and wore them when I wasn't wearing my Pons last summer.
PPS: The best kid shoes.